How To Get Zee Marathi Diwali Ank?
Books and Magazines are considered to be the best friends of a human as they offer a lot of fruitful information. People love reading different types of magazines due to its variety of content. Diwali brings joy to such people because of Zee Marathi cha Diwali Ank's fabulous and diverse content. It is the first published edition Diwali Ank - 'Utsav Natyancha' by the Zee Marathi. It has reached the nascent e-book space with a good response as well as it has become one of the highest subscribed Diwali Ank.
How To Get Zee Marathi Diwali Ank?
Rather than buying it from the traditional shops you must choose online store as they offer books and magazine at a lesser price. It not only assists in saving your precious time but also proves to be a cost-effective method. Moreover, the online store also offers the maximum discount which is not offered by the book shopkeepers. Therefore, buying books and magazine from the online store is the best choice made by a consumer.
Zee Marathi Diwali Ank - Where To Buy?
If you really want to enjoy this Diwali with good literature, buying Zee Marathi Diwali Ank is a great idea. In order to purchase this magazine in we suggest you to buy it from Cart 91 - The Famous E Commerce Portal for All kinds of Old and New Classic Marathi Books. It is available 24/7/365 and just a click away so that you could order it any time you like. But if you order it now you can save Rs.10 which is the preorder discount offered only by cart91.com for its valued customers. Moreover, you don't need to put in any extra effort of going out and purchasing a book as it shall be delivered at your doorstep*!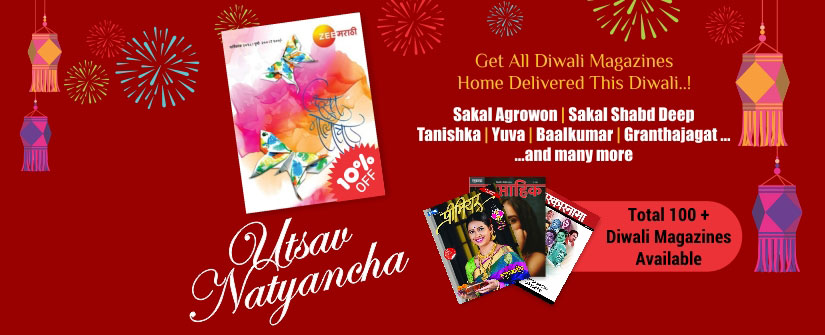 You may also place your orders by calling us on the following numbers - Zee Marathi Diwali Anka phone number (Cart 91) - +91 77688 00991
Zee Marathi Diwali Ank Reviews
The Zee Marathi Diwali Ank has got the 5 stars from its readers. Its first edition was sold out in only 3 days of opening. Numerous people have fallen in love with it, and they also have recommended it to their dear ones. It has also been used as the best gift which is given to the dear ones on their birthday or even on the day of Diwali along with sweets. Hence, it is a great idea to purchase this Diwali edition as you won't regret after buying it.
Purchase It Today!
Don't think twice before buying as it offers lots of benefits to the readers by adding good content into their reading library. It is advisable that you must make a purchase as soon as possible as the stock clears very fast due to a large number of buyers. It is pertinent to mention that as the demand is escalating day by day, likely chances are there that the book may go out of stock and would may attract a risen price. So to ensure your copy today, kindly buy the book through our online store as early as possible.
Posted on
23 Oct 2018
. Posted in
Magazines
. Tagged
Marathi
,
Marathi Authors
,
Marathi Writer
.