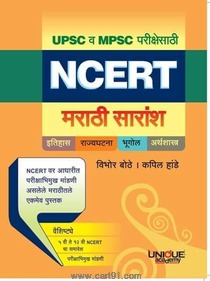 About the book
The only book in Marathi based on NCERT syllabus useful for UPSC, MPSC exam.
Reviews
NCERT Marathi Saransh

Kapil Hande 12 Oct 2016

This book is very useful for UPSC & MPSC exam. Actual NCERT books available only either English or Hindi & many students have difficulty about these two language. But this book written in Marathi language so students save their time.

Someshwar 12 Oct 2016

I find this book is very good for quick revision

Rohit 12 Oct 2016

This Book is Very Important In my studies

NCERT मराठी सारांश

Prashant patil 13 Oct 2016

Very nice and useful book for civil service aspirants. Same tine this book is available in marathi medium which is useful for those students who write there mains exam in Marathi language.

Rahul Patil 16 Oct 2016

Thanking so much for making available Marathi version of NCERT... the content of book is easy to understand....